Ampersand
Immigration History
This article is from the November/December 2007 issue of Dollars & Sense: The Magazine of Economic Justice available at http://www.dollarsandsense.org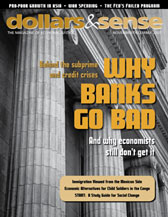 This article is from the November/December 2007 issue of Dollars & Sense magazine.
This cartoon is from the November/December 2007 issue of Dollars & Sense: The Magazine of Economic Justice available at http://www.dollarsandsense.org
ICE to Freeze Bank Profits?
In the face of the subprime mortgage crisis, it turns out that making home loans to undocumented immigrants might be a safe bet for banks and other lenders—at least for now. So-called ITIN mortgages, which are obtained with individual taxpayer identification numbers in lieu of Social Security numbers, are designed for tax-paying immigrants with good credit who lack legal status. Such mortgages, according to the Wall Street Journal, have a delinquency rate of only 0.5%, compared with a 9.3% rate for subprime loans.
Yet with Immigration and Customs Enforcement (ICE) raids on the rise, the fate of the immigrants who hold these mortgages—and so of the mortgages themselves—is uncertain. For the moment more banks seem to be getting into the ITIN mortgage business than out of it, but some bank officials worry that borrowers who lose their jobs and/or face deportation will be forced to default. So it seems that U.S. immigration policy may end up worsening the current banking crisis.