Real World Macro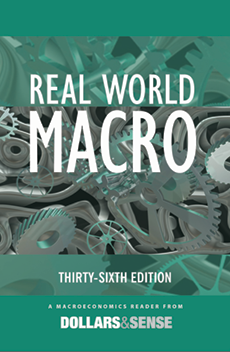 Note: If you are a student at UMass-Amherst or Bentley, please order through Collective Copies/Levellers Press (link here). If you order through us, there will likely be significant delays.
Edition:

36th

Date of publication:

June 2019

ISBN:

978-1-939402-41-7

Price:

$37.95
Introduction
Chapter 1: Perspectives on Macroeconomic Theory
Introduction
1.1 What's Wrong with Neoliberalism?
1.2 The Growth Consensus Unravels
1.3 Opening Pandora's Box: The Basics of Marxist Economics
1.4 Sharing the Wealth of the Commons
Chapter 2: Macroeconomic Measurement
Introduction
2.1 What Does It Mean to Be "Better Off"?
2.2 GDP and Its Discontents
2.3 Measuring Economic Development
2.4 Household Labor, Caring Labor, Unpaid Labor
2.5 Deflators and the Purchasing Power of the Minimum Wage
2.6 Undercounting the Poor
Chapter 3: Economic Growth and Business Cycles
Introduction
3.1 Donald in Wonderland
3.2 A Future for Growth—If We Choose It?
3.3 Why Has the Economy Been Doing So Well?
3.4 As U.S. Economy Weakens, Economists Struggle to Predict Next Recession
3.3 A Future for Growth—If We Choose It?
3.3 Is Economic Growth Environmentally Sustainable?
3.4 The "Emerging Economies" Today
Chapter 4: Unemployment and Inflation
Introduction
4.1 The Relation of Unemployment to Inflation
4.2 The "Natural Rate" of Unemployment: It's All About Class Conflict
4.3 Let's See How Low the Unemployment Rate Can Go
4.4 What Are The Effects of a $15 Minimum Wage?
4.5 Traditional Measures of Unemployment Are Missing the Mark
4.6 Keynes, Wage and Price "Stickiness," and Deflation
4.7 Trying Again for Full Employment
Chapter 5: Wealth, Inequality, and Poverty
Introduction
5.1 Geese, Golden Eggs, and Traps: Why Inequality is Bad for the Economy
5.2 Pay No Attention to the Inequality Behind the Curtain
5.3 The Stock Market and Class Conflict
5.4 Unions and Income Inequality
5.5 Fifty Years After the Kerner Commission
5.6 Inequality, Sunk Costs, and Climate Justice
5.7 Inequality in the World
5.8 Wealth Inequality and Wealth Taxation: A Primer on Piketty
Chapter 6: Fiscal Policy, Deficits, and Austerity
Introduction
6.1 The Fiscal Crisis of the State
6.2 The Ideological Attack on Job Creation
6.3 Fiscal Policy and "Crowding Out"
6.4 Are the Trump Tax Cuts Working and Does Anyone Care?
6.5 The Human Toll of Greek Austerity
6.6 Trump's Budget Would Deny Food to 400,000 Children and Pregnant People
6.6 Puerto Rico's Colonial Economy
Chapter 7: Money and Monetary Policy
Introduction
7.1 What is Money?
7.2 Is "MMT an Answer for the U.S.? For Greece?
7.3 Should We Blame "Fractional Reserve" Banking?
7.4 Pushing on Strings
7.5 Inflation-Targeting and Neoliberalism
7.6 Keynes and the Limits of Monetary Policy
7.7 Dollar Dominance
Chapter 8: Finance, Savings, and Investment
Introduction
8.1 Financialization: A Primer
8.2 From "Boring" Banking to "Roaring" Banking
8.3 Stock Buybacks: Any Positive Outcome?
8.4 Bubble Bubble, Toil and Trouble
8.5 We're All Minskyites Now
8.6 Trump's Tax Cut Has Failed to Deliver Promised Investment
Chapter 9: The Global Economy
Introduction
9.1 The Gospel of Free Trade: The New Evangelists
9.2 The Globalization Clock
9.3 Beyond Trump's Tariffs and Trade War
9.4 Trump Is Giving Protectionism a Bad Name
9.5 Understanding Brexit
9.6 Transnational Capital and Transnational Labor
9.7 Neoliberalism Unchained: A Retrospective on NAFTA
9.8 Globalization and the End of the Labor Aristocracy
Chapter 10: Resistance and Alternatives
Introduction
10.1 What Would Full Employment Cost?
10.2 A Green Job Guarantee
10.3 Progressives Need a Tax-Reform Agenda
10.4 Glass-Steagall Now: Because the Banks Own Washington
10.5 Understanding France's Gilets Jaunes
10.6 International Labor Standards
10.7 Land Reform and Economic Development
Contributors