Real World Macro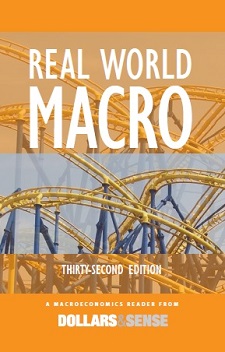 Edition:

32nd

Date of publication:

June 2015

ISBN:

978-1-939402-18-9

Price:

$36.95
Introduction
Chapter 1: Perspectives on Macroeconomic Theory
Introduction
1.1 Inequality, Power, and Ideology
1.2 What's Wrong with Neoliberalism?
1.3 What Does It Mean to Be "Better Off"?
1.4 Opening Pandora's Box: The Basics of Marxist Economics
1.5 Sharing the Wealth of the Commons
Chapter 2: Macroeconomic Performance
Introduction
2.1 The Growth Consensus Unravels
2.2 GDP and Its Discontents
2.3 Household Labor, Unpaid Labor, Caring Labor
2.4 Measuring Economic Development
2.5 The Specter of Secular Stagnation
2.6 Can "Abenomics" Revive Japan's Economy?
Chapter 3: Wealth, Inequality, and Poverty
Introduction
3.1 Geese, Golden Eggs, and Traps: Why Inequality is Bad for the Economy
3.2 The Death of Horatio Alger
3.3 What Happened to Wages?
3.4 Unions and Income Inequality
3.5 The Great Recession in Black Wealth
3.6 Inequality in the World
3.7 Wealth Inequality and Wealth Taxation
3.8 The Undeserving Rich
Chapter 4: Fiscal Policy, Deficits, and Austerity
Introduction
4.1 The Ideological Attack on Job Creation
4.2 Fiscal Policy and "Crowding Out"
4.3 The Great Tax-Cut Experiment
4.4 Myths and Realities of Government Spending
4.5 The $17 Trillion Delusion
4.6 Beyond Debt and Growth
4.7 The Costs of Austerity
Chapter 5: Money and Monetary Policy
Introduction
5.1 What is Money?
5.2 How do Fiscal and Monetary Policy Compare?
5.3 Should We Blame "Fractional Reserve" Banking?
5.4 Keynes and the Limits of Monetary Policy
5.5 Pushing on Strings
5.6 The Financial Crisis and the Second Great Depression Myth
Chapter 6: Savings, Investment, and Finance
Introduction
6.1 From "Boring" Banking to "Roaring" Banking
6.2 Derivatives and Deregulation
6.3 Financialization: A Primer
6.4 Bubble, Bubble, Toil, and Trouble
6.5 We're All Minskyites Now
6.6 Securitization, the Bubble, and the Crisis
6.7 Glass-Steagall Now: Because the Banks Own Washington
Chapter 7: Unemployment and Inflation
Introduction
7.1 The Relationship of Unemployment and Inflation
7.2 The "Natural Rate" of Unemployment: It's All About Class Conflict
7.3 Unemployment: A Jobs Deficit or a Skills Deficit?
7.4 The Real Unemployment Rate
7.5 Badge of Ignorance: The Notion that Regulation Is the Cause of Unemployment
7.6 How Blacks Might Fare in aJobless Recovery
7.7 Women Breadwinners, Men Unemployed
7.8 Keynes, Wage and Price "Stickiness," and Deflation
Chapter 8: Development and the Global Economy
Introduction
8.1 The Gospel of Free Trade: The New Evangelists
8.2 Comparative Advantage
8.3 Is China's Currency Manipulation Hurting the U.S.?
8.4 Outsized Offshore Outsourcing
8.5 After Horror, Change?
8.6 It Lowered Wages, As It Was Supposed to Do
8.7 Trans-Pacific Partnership: Corporate Power Unbound
8.8 A Way Out for Greece and Germany
Chapter 9: Resistance and Alternatives
9.1 We Need a (Green) Jobs Program
9.2 Universal Health Care: Can We Afford Anything Less?
9.3 Transforming the Fed
9.4 Leisure or Unemployment: It's a Political Question
9.5 Greece and the Crisis of Europe: Which Way Out?
9.6 Remembering the "Tokyo No"
9.7 China's Development Banks Go Global
9.8 Land Reform and Economic Development
9.9 The Future of Work, Leisure, and Consumption
Contributors