Ampersand
Chocolate and Slavery
This article is from the September/October 2007 issue of Dollars & Sense: The Magazine of Economic Justice available at http://www.dollarsandsense.org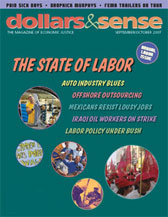 This article is from the September/October 2007 issue of Dollars & Sense magazine.
This cartoon is from the September/October 2007 issue of Dollars & Sense: The Magazine of Economic Justice available at http://www.dollarsandsense.org
The Short Run
Invisible Hand Caught in the Cookie Jar
Hershey, the largest candy producer in the United States, announced in February that it would eliminate 1,500 jobs in Pennsylvania and transfer some of its operations to Mexico. But the plan has backfired, according to Bloomberg News. Hershey's second-quarter profits fell 96%, with net earnings falling to $3.55 million, from $97.9 million a year earlier. Bloomberg also reported that, partly as a result of its plan to offshore jobs, Hershey has lost market share to its main rival, Mars Inc. "We understand the missteps over the past few quarters," said Hershey CEO Richard Lenny, "and we are aggressively addressing them."
Shipping U.S. jobs overseas to cut labor costs isn't the worst business practice the candy industry has seen, by a long shot. A UNICEF report in the late 1990s helped to publicize the use of child slaves—mostly 12- to 16-year-old boys trafficked from neighboring Mali—to harvest cocoa beans in Côte d'Ivoire, the world's leading cocoa producer and exporter. In 2001, the chocolate and cocoa industries reached an agreement aimed at reducing the use of child labor in cocoa production. But the group Anti-Slavery International has stated that "[b]ecause of the way the chocolate industry buys its cocoa, it is not possible to ensure that slave or other forms of illegal exploitation have not been used in its production."