Current Economic Issues
Edited by James M. Cypher, Robert Larson, Chris Sturr, and the Dollars & Sense collective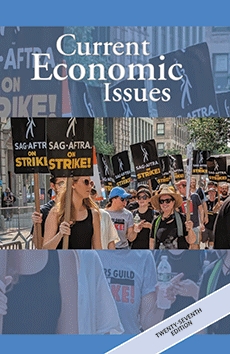 Edition:

27th

Date of publication:

December 2023

ISBN:

978-1-939402-82-0

Pages:

280

Price:

$42.50
In the United States, the post-pandemic economy has seen an ongoing recovery with a stronger-than-expected labor market, ongoing inflation, and a series of interest-rate increases by the Federal Reserve; in the developing world, there is a growing debt crisis. The 27th edition of Current Economic Issues offers progressive perspectives on the aftermath of the pandemic crisis and other major economic issues of the day, in the United States and around the world.
This thoroughly revised edition covers key controversies—the state of the macroeconomy, fiscal policy and taxation, banking and finance, the social-welfare state, environmental protection, labor and unions, economic inequality, corporations, and the changing global economy. This new edition includes thorough coverage of the post-pandemic economy, including articles on the inflation, turmoil in the labor market, and strikes in Hollywood and the auto sector. This edition also covers the global economy, with articles on SWIFT and the U.S. dollar, the global debt crisis, and how so-called "free trade" agreements are weaponized.
Current Economic Issues' distinguished contributors include Frank Ackerman, Dean Baker, James M. Cypher, Jayati Ghosh, Rob Larson, John Miller, Ellen Mutari, and many others. This book is an invaluable tool for understanding the main economic problems of today and contending policy proposals to address them.
"The articles in Current Economic Issues are unique in their ability to draw on both passion and intellect from students of all political persuasions." —DAVID E. KAUN, University of California–Santa Cruz