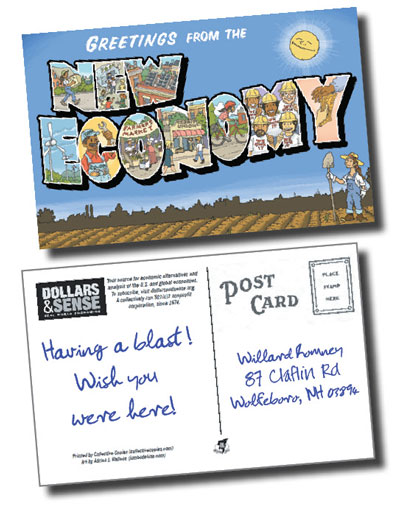 Help Support D&S and the "New Economy"!
Send your friends this dramatic postcard from a future that could yet be!
Artist Adrian J. Wallace's cover illustration for our July/August 2012 issue brilliantly captured Abby Scher's superb article on the "new movement seeking to build a just, sustainable world."
The illustration has already gone viral on the Internet; now you can share it in old-school fashion—through the actual mail!
The postcards, which celebrate New-Economy staples like credit unions, local currencies, farmers' markets, and co-ops, also help spread the word about D&S, which, in addition to covering this movement, is itself a collectively run business. And the cards are printed by Collective Copies, a worker-owned co-op in western Massachusetts.
Click here to purchase a pack of 20 postcards for $20:
Or get a pack of 20 postcards free with a two-year subscription or two-year renewal.
Many thanks for your support!