Rustbelt Buyouts
Why Ohio Leads in Worker Ownership
This article is from the September/October 1998 issue of Dollars and Sense: The Magazine of Economic Justice available at http://www.dollarsandsense.org
This article is from the September/October 1998 issue of Dollars & Sense magazine.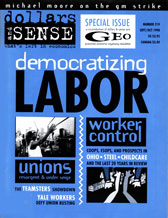 No one said it was going to be easy for the employees of Brainard Rivet to take ownership of their company. Certainly not Jeff Chine, the worker heading the buyout committee: "They arrested us, handcuffed us, took us to the station, booked us, and in 45 minutes we were back on the picket line."
Textron, a Fortune 500 company based in Providence, R.I., was determined to shut the Girard, Ohio, plant even though it was one of the most profitable in its division; its 45 hourly workers and salaried staff made more than $2.1 million for Textron's shareholders in 1996. But rather than negotiate with Chine and the rest of the employee buyout committee, Textron ignored them. It ignored pressure from Senators Glenn and Dewine, who both wanted to keep the jobs in Ohio. The company just packed up a good portion of the plant's equipment and shipped it past Jeff Chine's picket line to a nonunionized plant in Virginia, where it laid around mostly unused, and, of course, unprofitable.
In any other state, unionists waving good-bye to trucks hauling their factory down south probably would disperse in search of new—and almost certainly lower paying—jobs. But the Brainard workers had the backing of the Ohio Employee Ownership Center (OEOC), a nonprofit funded by the state that links workers with consultants, lawyers and anything else they need to buy out a company. The OEOC sparked a whole chain of events simply by connecting Brainard workers with a business analyst—paid for by the state—who studied the feasibility of the buyout. In the course of his research, the consultant discovered Textron handed over much of the work from the Brainard plant, not to its Virginia operations, but to its competitors. The multinational's sole business goal appears to have been to shutter its only unionized U.S. plant.
From there, the chips fell quickly. A letter from Ohio Congressman Jim Traficant to Textron's CEO pointedly noting there was no "justifiable" business goal behind the shut down forced the company to negotiate; it turns out $1 billion of Textron's $9.5 billion in annual sales comes from military contracts—and Jim Traficant serves on the House aerospace committee that approves those very same contracts. So by spring 1998, Brainard had become a wholly owned subsidiary of Fastener Industries, another employee-owned company in the same business, and the Brainard workers became Fastener's newest worker-owners.
These days, the OEOC helps create six to eight employee-owned companies each year and consults with about 40 potential sellers or employee buyout groups. In many cases the buyouts were won without the fanfare or politicking of Brainard since they involved, not big corporations, but retiring business owners who wanted the tax breaks that selling to their employees through an Employee Stock Ownership Plan (ESOP) would bring.
Since its founding in 1987, the OEOC has coached some 39 firms to employee ownership and since 1988 it has done this work under contract with the state. The $1.25 million the state invested in OEOC since that time more than paid off: the nonprofit has helped keep 9,600 jobs in Ohio at a cost of about $130 per job. Of some 30 Ohio companies bought to avert shutdown or job loss, all but one are still in business and all but four remain employee owned, although several of them are having a hard time.
Other states—Massachusetts, Michigan, New York, Oregon and Washington—set up employee ownership programs around the same time as Ohio. A number of local and regional nonprofits including the Center for Democratic Solutions in the Bay Area, the ICA Group in Boston, the Midwest Center for Labor Research in Chicago, and the Steel Valley Authority in Pittsburgh also promote employee ownership. Scores of private consultants provide fee-for-service work in the field as well. Without the backing of a state program, however, independent consultants are held back in the work they can do. Ohio's program is so successful in part because it combines government support with an operation that acts independently of the state bureaucracy. This gives the OEOC room to maneuver.
Ohio's success also builds on a hotbed of interest in employee ownership in the state, stimulated by the organizing against the devastating shutdowns of steel mills in the late '70s and early '80s. Local steelworkers and religious groups in the Youngstown area sought to buy a few of the mills as a way to preserve some of the 15,000 jobs lost. They failed, but managed to implant the idea of employee ownership in Ohio policy makers, workers and unionists. They should be proud of their legacy. The OEOC's greatest success is with "closely held" or privately owned companies, and in one five-year period the number of these firms that became employee owned in Ohio outpaced the national average by 45%.
Today the OEOC spends as much time providing training to worker owners as it does in supporting the creation of new employee-owned companies. Fifty-five companies with some 12,000 employees receive joint training from OEOC through the state Employee Owned Network. It trains union members serving on corporate boards, educates the rank and file on what it means to be worker owners, and promotes greater worker involvement in ESOPs, the primary way employee ownership is structured in Ohio and the rest of the country. About half of the monthly sessions OEOC runs for the Network are to train nonmanagers assuming new roles as employee representatives on new administrative committees or on boards of directors. Supervisors, personnel directors and CEOs who must learn to work within a more democratic enterprise also take OEOC classes.
The average company in the Ohio Network is relatively small, with about 100 employees and about $8 to $10 million in sales. This means they don't have many resources within the company to train the worker owners. But this training is critical because most ESOPs are not necessarily worker controlled—they are a type of benefit plan, often for retirement, with workers owning company stock through a trust fund. Unlike cooperatives, which distribute one share of ownership per worker, ESOPs often distribute shares according to how much money an employee earns—the higher the salary, the greater the ownership stake. Even if the majority of shares are worker owned, bosses still may control the company by controlling the board or trustee overseeing the ESOP. If the employees borrowed to buy the stock in the ESOP, the trustee—appointed by management—may vote the shares that are not paid off yet. Only in a tiny number of cases do workers win seats on the board.
Still, ESOPs are the primary way workers can afford to buy out companies in capital-intensive industries run with a lot of expensive machinery. They usually borrow from the sellers, the outgoing owner or corporation, or the bank. All employee-owned ESOPs can be designed to be democratic and participatory at the outset—as well they should on purely business grounds since those with participatory workplaces are more profitable and productive than nonparticipatory ones. But most aren't set up that way for the simple reason that owners generally create ESOPs to receive Federal tax breaks, not because they support employee control. Or they may merely seek an infusion of capital from the workers' retirement program. In Ohio, 37% of the ESOPs where workers own a minority of the stock give employees full voting rights while 52% of ESOPs which are majority worker-owned do. But employee input in decisionmaking is shut out entirely in more than a quarter of the 300 part employee-owned companies in Ohio. Here workers are risking their retirement money without receiving the power to shape the company in return. Workers at Avondale, the union-bashing defense contractor in Louisiana, found this out the hard way. They were unable to prevent Avondale from diluting their ownership stake by selling more stock on the open market, thus shutting the door firmly against their participation in management.
All these risks make ESOPs an imperfect tool for building worker ownership. Only with the right internal structures can even majority-worker-owned ESOPs deepen employee participation and control. The OEOC works with ESOPs—and with a few member-owned cooperatives—on a fee-for-service basis to restructure the modes of participation on the shop floor and in the boardroom so they are more democratic. That's not easy, because managers and workers don't see eye to eye for obvious reasons—although both are owners. Even companies which make real progress can backslide because of personalities and conflicting interests.
With a little support, nonmanagerial employees can become active owners. They learn exactly how they own the company and how to read the financial information they receive from the company. They learn what drives their business—the market, the capital spending plan, the competition, new technology, etc.—and develop the skills to use whatever employee participation structures exist.
Not only are employee-owned firms in Ohio forming at a much faster rate than nationally, it also appears that many more of Ohio's firms are democratically operated than is true nationally. An OEOC survey from 1993 found that 43% of closely held ESOP companies in Ohio provided full shareholder voting rights to employees, up from 14% in 1986. Only 17% of Ohio ESOP companies—10% of the minority ESOPs and 37% of the majority ESOPs—have elected nonmanagerial employees to the board. Still, that is much better than the 4% found in a national study by the General Accounting Office in 1985. And by creating internal democratic structures with union involvement, majority-worker-owned ESOPs are more likely to remain worker owned, with employees selling their stake back to the company or the ESOP when they leave or retire, and not to absentee owners.
Now Ohio's 80 majority-worker-owned ESOPs employ more than 20,000 workers, up from a dozen employing 2,000 in 1987. Nationally, the Steelworkers, Airline Pilots, UNITE, the Machinists, the Teamsters and the International Union of Electrical Workers (IUE) all have ESOP successes (and failures) under their belt. The Steelworkers have formed their own Worker Ownership Institute to promote democratic ESOPs in their sector. But the network is still not extensive enough. We need to build more depth by both region and sector. Only with numbers will come a pooling of resources and power.
More unions might follow the lead of the Boilermakers, the Steelworkers, and a few others which have negotiated the "right of first refusal" in some of their contracts, giving employees a chance to bid on plants when they come up for sale. And while the U.S. government sinks billions in tax breaks for ESOPs, it doesn't support the relatively cheap programs like the OEOC and Steelworkers Worker Ownership Institute that promote democratic ESOPs, support coops, and train employees for the risks of ownership. A federal matching grant program of $3 million would probably triple the public, nonprofit and union infrastructure supporting employee ownership in three years. More unions need to follow the Steelworkers' lead and direct union pension money to worker-owned and other enterprises, as does the Steelworkers' Industrial Heartland Investment Forum.
These changes are slow. They are piecemeal. They occur company by company, union by union. Let's speed their growth.