Rank and File Teamsters Fight for Labor's Future
This article is from the September/October 1998 issue of Dollars and Sense: The Magazine of Economic Justice available at http://www.dollarsandsense.org
This article is from the September/October 1998 issue of Dollars & Sense magazine.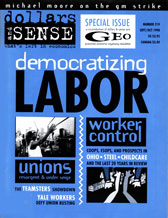 The Teamsters will conduct a national election for president this fall. While media attention has focused on the contest between candidate Jimmy Hoffa, son of the former president, and his principal opponent, reformer Tom Leedham, a lot more is at stake than who sits in a chair in Washington. The Teamster presidential election will ultimately affect not only the 1.4 million Teamsters, but the entire labor movement.
The contest for leadership in the Teamsters reflects a deeper struggle over fundamental principles. The union today is a battleground between reformers committed to union democracy and workers' power in the workplace, and a small group of officials defending their own power and the perks of office. Two models of unionism—really two models of society and politics in microcosm—contend for the hearts and minds of the Teamster members. This is a struggle for the soul of the union.
They were once called the New Teamsters but the reform administration of former president Ron Carey has shattered into pieces since Carey stepped down because of corruption charges last year. Three rival factions in the union—sometimes called the Old Guard, the Reformers and the Traditionalists—contend for power. Each has a presidential candidate running for office, respectively: Jimmy Hoffa, Jr., Tom Leedham, and John Metz. The national union leadership and staff have become deeply divided.
The tragedy of all of this is that with the election of Ron Carey in 1991 it seemed as if the huge union so long dominated by organized crime had finally turned the corner. Six years later the promise of reform seemed fulfilled when Carey led 185,000 Teamsters in a strike against United Parcel Service (UPS), the powerful package delivery company. With months of careful preparation and rank-and-file organization, the Teamsters succeeded in keeping full-time and part-time workers united, and, after a solid strike that got the support of two-thirds of the American people, in August 1997 the union won against UPS on such issues as creating more full-time jobs and stopping the trend toward contracting out.
Although UPS is now trying to renege on hiring more full-timers, the victory represents not just Carey's accomplishments, but the gradual transformation of the union over some twenty years, largely through the efforts of the reform group Teamsters for a Democratic Union (TDU). Over two decades a quiet revolution in the Teamsters had brought about new levels of membership involvement, the reform of local bylaws, and the election of new leaders in many local unions. The UPS strike gave expression to those changes, the result of long years of struggle which had created a more democratic and militant union.
But only three months later Carey resigned after charges by the Federally appointed Independent Review Board (IRB) that he had failed to prevent the misuse of over $700,000 from the union's treasury. Carey's campaign advisors Martin Davis and Jere Nash, and their associate Michael Ansara, all pleaded guilty to having embezzled and laundered union funds to benefit the Carey campaign and their own businesses. Carey claimed he never knew about the misappropriation.
Carey's moral and political failure, even if only the failure to oversee or restrain his advisors, had a devastating impact on the union and on the entire labor movement, since its legal and political repercussions also spilled over into John Sweeney's new leadership of the AFL-CIO. Carey's campaign consultants discredited and ultimately destroyed the reform administration of the Teamsters that represented one of the most important advances of the American labor movement in more than 50 years.
The Carey Administration
The fall of Carey led directly to the breakup of the reform coalition he had led. As President, Carey had been a strong leader who held together a diverse coalition that included the militant democrats of TDU, other genuine union reformers, some traditional Teamster leaders, and a few out-and-out opportunists. After his election, holding out an olive branch to his opposition, Carey even won over some members of the Old Guard—broadening his base, but also pulling the whole coalition to the right.
Carey held that coalition together with his own reputation and a straightforward, serious program of union reform based on greater union democracy, more organizing, and an adversarial approach to the employers. Beyond that, Carey became the leading voice against the North American Free Trade Agreement (NAFTA), a key supporter of John Sweeney's bid for the AFL-CIO presidency in its first-ever contested election, and moved the Teamsters from the Republican to the Democratic Party.
Over six years Carey cut union officials' salaries and put more money into organizing. He increased education for stewards and rank and file members, putting emphasis on contract campaigns, local unions, and shop floor organization. He got rank-and-file workers rather than just paid staff to organize new workers into the union. With that program he succeeded at companies such as Overnite, the largest nonunion trucking company which no previous president—including Hoffa, Sr.—had been able to organize. Carey launched an organizing campaign among low-paid Mexican workers in the apple orchards and packing plants of Washington. He also carried out contract strikes among freight and carhaul workers. Finally in 1997, Carey called the meticulously planned and carefully executed national strike against UPS.
Hoffa
When Carey fell, the road to the Teamsters' Marble Palace in Washington seemed to open before Jimmy Hoffa, Jr. A man without any great vision or strategy who never held elected Teamsters office, Hoffa is convinced that his name—or, better put, his famous father's name—a big union bank account, and friends in the Republican Party will make him a great union president. The future of the Teamsters union is another matter, and one about which Hoffa has virtually nothing to say.
In the 1970s Hoffa, Jr., entered into a partnership in a high risk loan business with Alan Dorfman, a notorious mobster associate of his father who ended up dead—assassinated—in 1983. Today Hoffa associates with some of the most unsavory characters who remain in the Teamsters union, such as James Santangelo of the California Teamsters who is charged by the International with making himself illegal loans of union funds, and Larry Brennan, president of Michigan Joint Council 43. It was under Brennan's watch that the Labor Department forced Council 43 to pay back $723,000 in excessive expenses including $99,000 spent on strip joints and golf courses.
Hoffa talks about bringing unity back to the Teamsters. But Hoffa's executive board slate is made up of 18 men, all high paid union officials, only two are black, none are Latino. There are no women on the slate, though the Teamsters is estimated to have 200,000 female union members, 15% of the membership. Despite talk of unity, Hoffa's slate represents the white, male bureaucracy of the union.
Ken Paff, TDU national organizer, argues that while Hoffa talks about unity and power to the members, he talks about "autonomy: to the union officials. "Their slogan is local autonomy for the officials. Every local will be an island, there will be no concerted organizing drives, no contract campaigns," says Paff.
Employers represent another Hoffa constituency. UPS was caught by a court-appointed election officer distributing material to workers to help Hoffa's campaign. A UPS lobbyist in Washington attended Hoffa fund-raisers and made contributions (as an independent contractor he was permitted by law to do so). UPS also helps Hoffa by creating problems for local reformers, making it clear that it would prefer an Old Guard administration. "While they do not say so," says Paff, "the freight carriers, UPS and other employers back Hoffa."
Finally, Hoffa has the backing of one of the most conservative leaders of the Republican Party. Representative Pete Hoekstra, Republican from Michigan, has carried out an investigation of the 1996 Teamster election which has served as a platform for the Hoffa campaign. Hoffa, it is believed, would, should he win, move the Teamsters back into the Republican camp. Hoffa, for example, has criticized Ron Carey for not being closer to Republican leader Newt Gingrich.
What would a Hoffa administration be like? The union's freight division, dominated by Hoffa-supporter Phil Young of Kansas City Local 41, gives an idea. Preston Transportation recently came to the Teamsters pleading economic hardship and asking for "relief," in the form of lower wages. Young permitted the company a wage concession without going through freight contract procedures requiring a three-quarters majority vote by members.
John Metz
At the end of June, John Metz, the head of Joint Council 13 in St. Louis and the Public Employees Division, also became a candidate for Teamster president. Metz represents a group of older union officials, sometimes called the Traditionalists. They reject reform, but are reluctant to be identified with Hoffa and the Old Guard. The real power behind the Metz slate is John Morris, an influential Teamster leader from Philadelphia. The Reformers call Metz's group the "Waste Your Vote Slate," arguing that the real contest is between Hoffa's Old Guard and Leedham's Reformers.
In some parts of the country, Metz has attempted to claim the mantel of Carey. But he seems closer to Hoffa. For example, in June a local election took place in Chicago's notorious Local 714. For years 714 was dominated by William T. Hogan who has been linked to the Accardo mob and was found guilty by the Teamsters Independent Review Board of nepotism and negotiating bogus contracts. The June election pitted William Hogan's son Bobby Hogan against a reformer named Mike DiFrancisco. John Metz supported Hogan.
The Reform Movement, TDU, and Leedham
Against Hoffa, the reform movement faces tremendous difficulties, but they are not insurmountable.
The backbone of the reform movement in the Teamsters remains TDU. TDU played the key role in Carey's election in 1991 and provided almost half the members of his first executive board. Carey spoke at TDU conventions, adopted much of the TDU program, and later appointed some TDUers to union posts. But in the first year or two Carey, hoping to broaden his coalition by drawing in some of the Old Guard leaders, sometimes kept TDU at a distance.
But, TDU stuck by the Teamster president. Stuck too tight perhaps. Once an independent voice in the union, during the 1990s TDU and its Convoy-Dispatch newspaper became completely identified with Carey. TDU hesitated to criticize the reform leader, even when he deserved it, for fear of giving ammunition to the Old Guard. When Carey sometimes appointed conservative officials of dubious morality to oversee locals in trusteeship, TDU's Convoy-Dispatch had no comment. TDU's reluctance to criticize Carey can be explained in part by the kind of Contra war conducted by the Old Guard and the employers against the reform administration. But TDU's silence on Carey's mistakes did not help to promote democratic discussion in the union about the road to reform.
Yet, throughout the six years of the Carey administration, TDU did what it has always done. TDU fought for democratic bylaws, like the right to elect stewards, helped local reformers run for office, worked on contract campaigns among freight, carhaul, grocery, cannery and UPS workers. In general TDU cooperated with Carey as a force from below to help carry out the reform policies he implemented from above. For example, when some local officials ignored Carey's instructions during the freight, carhaul or UPS strikes, throwing strike bulletins in the trash, Teamster headquarters in Washington put TDU activists on the fax list, and they distributed the literature to the members.
When the scandal of the embezzlement in the Carey campaign came to light, TDU defended the accomplishments of the reform administration, while distancing itself from Carey. Speaking at the TDU convention in November 1997, Paff called Carey's decision to employ the political consultants a "monumental blunder." But Paff and other TDU leaders hesitated to criticize Carey or to examine their own relationship to him.
With Carey gone, TDU helped to organize a reform coalition built around the candidacy of Tom Leedham, who had worked in a grocery warehouse until 1986 when he was elected head of Local 206 in Portland, Oregon. The coalition also includes several local officials who do not come from the TDU experience, but who Paff calls, "the best of the Carey administration."
Leedham heads the Warehouse Division which claims 400,000 members (there may only be half that many), but unlike UPS or freight, the warehouse division has little cohesion. While Leedham himself is a very effective campaigner, he does not have much of an organization. TDU provides much of his organized support.
Part of Leedham's strategy is to reach out to union members who have not voted in previous elections. While still campaigning among truck drivers and dock workers, Leedham will also go after low-paid workers, minority members, and women in areas such as the food processing industry.
Maria Martinez and her coworkers are just the kind of support Leedham is after. Martinez, a 42-year-old mother of three, has worked at the Iowa Beef Processors (IBP) plant in Pasco, Washington for ten years. She is an "upgrader," cutting the fat off meat to make hamburger. The plant employs 1,200 workers, mostly Mexican-Americans, but also Bosnians, Vietnamese, Laotians and Anglos. All together about 80% are Latino, and nearly 40% are women.
In September 1996 Martinez and other workers became angry with IBP management. "There was disrespect from the supervisors, people were pushed to take jobs they couldn't handle. We had back, arm and shoulder injuries because the processing chain was moving too fast."
The chief steward refused to handle the workers' grievances. So Martinez and a group of other workers went to their union, Teamsters Local 556 in Walla Walla, and asked union head John Carter to remove the appointed chief steward and take up their complaints. Carter—a Hoffa supporter—refused.
Martinez and her coworkers then got 500 Teamsters to sign a petition calling for the removal of the chief steward. When Carter still refused to act, they sent the petition to Teamsters headquarters in Washington D.C. in the summer of 1997.
Joe Fahey, an International representative for the Warehouse Division's food processing section says, "I had a lot of other complaints on my desk, but that was the only letter signed by 500 workers." Fahey traveled to Washington state and talked to Carter and then to Martinez.
Martinez took Fahey to a park, sat him down at a picnic bench, and lined up hundreds of workers to talk to him. For three hours, says Fahey, he listened to one worker after another explain his or her grievance. "Some cried as they told me about their problems," he says. "He heard everybody's complaints," says Martinez, "about sexual harassment, about working conditions, everything."
Then Fahey stood up to talk to the workers. Martinez says she fully expected him to remove Carter and the chief steward and take care of the workers' problems. But instead, says Fahey, "I told them, 'I can't fix it. Ron Carey can't fix it. You have to fix it. But if you want, I'll come back and help you.'"
Two weeks later Fahey received another letter with the names of 87 people who wanted to sign up for training. Fahey returned to Pasco and taught the workers how to strengthen their shop floor organization.
Meanwhile Martinez had learned about Teamsters for a Democratic Union, and attended the TDU convention in November 1997. "I joined TDU," she says, "I met and started communicating with a lot of other people who could help us." The combination of support from the International and the backing of TDU made the workers feel more confident about changing the local union themselves.
Still unable to get Carter to remove the chief steward, Martinez and the other workers decided they would change the by-laws so that the chief steward was elected rather than appointed. When it came time to vote, 400 workers went to the union meeting in Walla Walla. They won the vote, and the next month Martinez was elected chief steward.
Martinez subsequently joined the Leedham reform slate as a candidate for vice-president for the Western Region. "My goal is to reach the Hispanic people and other workers as well," she says. "We're so used to working for so little, for whatever they want to pay us, and a lot of people don't know they have rights."
Both Hoffa and Leedham compete for the votes of members, many of whom have become deeply disillusioned with the political struggle in the union. Hoffa will try to convince workers to trust him to lead them back to a mythical past. Leedham will ask the members to take responsibility for themselves in a democratic union as they go forward into a sometimes frightening future. The vote from the "reformed" Teamsters put Sweeney over the top in the national AFL-CIO's first contested elections three years ago. The next few months will decide the fate of the Teamsters, and perhaps the fate of the American labor movement for decades.