Real World Labor
Edited by Immanuel Ness, Amy Offner, and Chris Sturr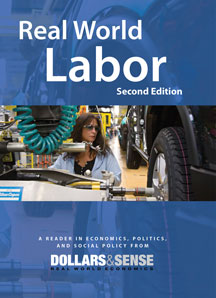 Edition:

2nd

Date of publication:

April 2011

Pages:

400

ISBN:

978-1-878585-78-3

Price:

$34.95
CHAPTER 1 · LABOR LAW, POLICY, AND REGULATION
1.1 Another World is Possible
1.2 Before and After Taft–Hartley
1.3 U.S. Labor Law: Stacked Against Workers
1.4 Unregulated Work
1.5 Taking Care of Themselves
1.6 Hard Work at an Advanced Age
1.7 What's Behind Union Decline in the United States?
1.8 What Wisconsin Means
CHAPTER 2 · WAGES AND THE LABOR MARKET
2.1 The Crisis of Wage Theft
2.2 Insider Exploitation
2.3 Don't Blame the Minimum Wage
2.4 What's Good for Wal-Mart...
2.5 What Can We Do to Raise Wages?
2.6 Measuring the Full Impact of Minimum-Wage Laws
2.7 Access to Paid Sick Days Vastly Unequal
2.8 Imprisoned in Low Wages
2.9 Nike to the Rescue?
2.10 Chinese Workers Stand Up
2.11 State Workers Face a Compensation Penalty
CHAPTER 3 · EMPLOYMENT AND UNEMPLOYMENT
3.1 The "Natural Rate" of Unemployment
3.2 The Real Unemployment Rate Hits a 68–Year High
3.3 How Might Blacks Fare in a Jobless Recovery?
3.4 Unemployment Insurance: A Broken System
3.5 Mining the Golden Years
3.6 We Need a (Green) Jobs Program
3.7 Welfare Reform and the Campaign to Regulate American Workers
3.8 Unemployment: A Jobs Deficit or a Skills Deficit?
3.9 Employers Go on Strike—Because They Can
CHAPTER 4 · INTERNATIONAL LABOR MOVEMENTS
4.1 Labor Influence in the New South African Government
4.2 On Strike in China
4.3 South Korean Labor Faces Repression
4.4 The Assault on Labor in Cananea, Mexico
4.5 Colombia: Building Global Worker Solidarity
4.6 The Global Crisis and the World Labor Movement
4.7 The Struggle for Worker Rights in Egypt
CHAPTER 5 · SEGMENTATION AND DISCRIMINATION BY RACE, GENDER, AND IMMIGRATION STATUS
5.1 How the Green Economy Can Promote Equal Opportunities for Women
5.2 Comparable Worth
5.3 Gulf Coast Shipyard Workers Take on Northrup Grumman
5.4 Indiana and Honda Mold a White Workforce
5.5 Wages for Housework
5.6 Managed Labor or Human Rights
5.7 "They Work Here, They Live Here, They Stay Here!"
5.8 Made in Argentina
5.9 Building a Better Austin from Below
5.10 Immigrant Rights are Labor Rights
CHAPTER 6 · UNIONS AND ORGANIZING STRATEGY
6.1 The Real Audacity of Hope
6.2 The IWW and Solidarity Unionism at Starbucks
6.3 SEIU Civil War Puts Labor–Management "Partnership" in a New Light
6.4 Austin, Minnesota and the Legacy of the IWW
6.5 Labor's Capital
6.6 The Unionization of Nurses in the United States
6.7 Mineworkers' Direct Action
6.8 The Revival of the Strike in U.K. Employment Relations
CHAPTER 7 · MANAGEMENT MODELS: OLD AND NEW, GOOD AND BAD
7.1 Scripted Talk
7.2 Hope and Exhaustion at the Hotel Bauen
7.3 Venezuela's Cooperative Revolution
7.4 Post–Apartheid Vineyards
7.5 Quality In, Workers Out?
7.6 Worker–Owners and Unions
7.6 The Job Crisis and the Art of Flexible Labor
CHAPTER 8 · LABOR, GLOBALIZATION, AND TRADE
8.1 Contemporary Workers' Struggles Against Neoliberalism
8.2 The Globalization Clock
8.3 Fields of Free Trade
8.4 International Labor Standards
8.5 Outsized Offshore Outsourcing
8.6 Women of NAFTA
8.7 Is China's Currency Manipulation Hurting the U.S.?
8.8 Why the Loss of Manufacturing Jobs?
CHAPTER 9 · LABOR AND ECONOMIC CRISIS
9.1 Inequality, Power, and Ideology
9.2 Should We Be Talking About Living Wages Now?
9.3 Corporate America's Counter–Stimulus Strategy
9.4 Creating Decent Jobs: The Role of Unions
9.5 Harassment: The Recession's Hidden Byproduct
9.6 Same Output + Fewer Hours = Economic Crisis?
9.7 Greece as a Demonstration Project
9.8 Full Employment as the Answer for Europe
9.9 The Betrayal of Public Workers
CHAPTER 10 · LABOR AND MILITARISM
10.1 U.S. Imperialism, Militarism, and the Labor Unions
10.2 Youth of Color Resist Military Recruiting
10.3 Iraq's Workers Strike to Keep Their Oil
10.4 In Harm's Way
10.5 Conscripted by Poverty
10.6 The Economics and Politics of Depropriation in the Other Colombia
10.7 Can Military Spending Solve the Job Crisis?
Contributors