The Activist Cookbook:
Creative Actions for a Fair Economy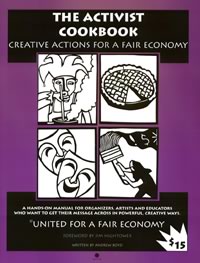 Authors:

Andrew Boyd (with a foreword by Jim Hightower)

Publisher:

United for a Fair Economy

ISBN:

0-9659249-0-4

Pages:

110

Price:

$15.00
A hands-on manual for activists and artists who want to find new ways to spice up their messages. Over 100 graphically charged pages of inspiring examples and creative action ideas to liven up your meetings, conferences, campaigns, media events and more. Complete do-it-yourself recipes for producing our most well-known performances, including "100 Musical Chairs" and "The Rich People's Liberation Front."
"Read this book, then get out there and mix it up!"
—Michael Moore