Real World Globalization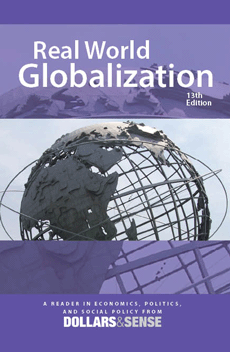 Edition:

13th

Date of publication:

November 2013

ISBN:

978-1-939402-08-0

Pages:

322

Price:

$35.95
CHAPTER 1—CRITICAL PERSPECTIVES ON GLOBALIZATION

1.1 Free Markets, International Commerce, and Economic Development
1.2 Inevitable, Irresistible, and Irreversible?
1.3 Rise of the Global Billionaires
1.4 Inequality: The Silly Tales Economists Like to Tell
1.5 Financialization and the World Economy

CHAPTER 2—CORPORATE POWER AND THE GLOBAL ECONOMY

2.1 Monopoly Capital and Global Competition
2.2 Libor Liability
2.3 Synergy in Security
2.4 The Other Colombia: Economics and Politics of Depropriation
2.5 Risky Business: Derivatives and Global Agriculture
2.5 How Goldman Sachs Caused a Greek Tragedy

CHAPTER 3—INTERNATIONAL TRADE AND INVESTMENT

3.1 The Gospel of Free Trade
3.2 Comparative Advantage
3.3 False Promises on Trade

3.4 Outsized Offshore Outsourcing
3.5 Eastern Europe's Mid-Level Manufacturing Trap
3.6 U.S.-China Trade in a Time of Economic Weakness
CHAPTER 4—INTERNATIONAL FINANCE
4.1 "Pressure from the Bond Market"
4.2 What Causes Exchange-Rate Fluctuations?
4.3 Is China's Currency Manipulation Hurting the U.S.?
4.4 W(h)ither the Dollar?
4.5 China's Development Banks Go Global
4.6 Beyond the World Creditors' Cartel
4.7 Beyond Debt and Growth
CHAPTER 5—INTERNATIONAL INSTITUTIONS AND TRADE AGREEMENTS
5.1 The International Monetary Fund (IMF) and World Bank
5.2 The World Trade Organization
5.3 NAFTA and CAFTA
5.4 The European Union (EU) and the Eurozone
5.5 The "Trade Deal" Scam
5.6 Structural Adjustment, Here and There
5.7 Disarming the Debt Trap
CHAPTER 6—LABOR IN THE GLOBAL ECONOMY
6.1 The Globalization Clock
6.2 International Labor Standards
6.3 Campus Struggles Against Sweatshops
6.4 After Horror, Apologetics
6.5 Nissan Burns Mississippi
6.6 Are Low Wages and Job Loss Inevitable?
CHAPTER 7—MIGRATION
7.1 The New Political Economy of Immigration
7.2 "They Work Here, They Live Here, They Stay Here!"
7.3 Made in Argentina
7.4 The Right to Stay Home
7.5 The Rise of Migrant Worker Militancy
7.6 Q&A on Immigration, Wages, and Labor Conditions
CHAPTER 8—DEVELOPMENT AND "UNDERDEVELOPMENT"
8.1 Haiti's Fault Lines
8.2 "Tied" Foreign Aid
8.3 Famine Myths
8.4 Microcredit and Women's Poverty
8.5 Measuring Economic Development
8.6 Brazil's Big Push
8.7 China and the Global Economy
8.8 Colonialism, "Underdevelopment," and the International Division of Labor
CHAPTER 9—NATURAL RESOURCES AND THE ENVIRONMENT
9.1 Genetic Engineering and the Privatization of Seeds
9.2 Is the United States a Pollution Haven?
9.3 Climate Economics in Four Easy Pieces
9.4 The Costs of Extreme Weather
9.5 A Nightmare on Maple Street
9.6 Is It Oil?
CHAPTER 10—GLOBAL ECONOMIC CRISIS
10.1 Putting the "Global" in the Global Economic Crisis
10.2 (Economic) Freedom's Just Another Word for ... Crisis-Prone
10.3 The Giant Pool of Money
10.3 In China, Change—and Uncertainty—are in the Air
10.5 Greece and the Eurozone Crisis
10.6 Why the U.S. is Not Greece
10.7 Resistance to Austerity Grows in Europe
CHAPTER 11—RESISTANCE AND ALTERNATIVES
10.1 Greece and the Crisis of Europe: Which Way Out?
10.2 The Return of Capital Controls
10.3 Equal Treatment for Immigrants
10.3 On Strike in China
10.5 Keep It in the Ground
Contributors