Up Against the Wall Street Journal
A Green Job Guarantee
This article is from Dollars & Sense: Real World Economics, available at http://www.dollarsandsense.org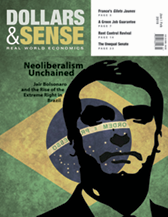 This article is from the
January/February 2019 issue.
Note: This article is available only in the print edition. The English-language data sources for the article are listed below.
Please consider supporting our work by donating or subscribing.
Greening The Global Economy, (Cambridge: MIT Press, 2015); Adie Tomer, Joseph Kane, and Robert Puentes, "How Historic Would a $1 Trillion Infrastructure Program Be?", Brookings Institution, March 2017; William Vickrey, "Today's Task for Economists," American Economic Review, 82 (1993), 1–10; and Bob Berwyn, "Climate Change Puts U.S. Economy and Lives at Risk, and Costs Are Rising, Federal Agencies Warn," InsideClimate News, November 2018.
Max Gulker, "The Job Guarantee: A Critical Analysis," American Institute for Economic Research, October 2018; Mark Paul, William Darity, and Darrick Hamilton, "The Federal Job Guarantee—A Policy to Achieve Permanent Full Employment," Center for Budget and Policy Priorities, March 2018; Randall Wray, Falvia Dantas, Scott Fullwiler, Pavlina Tcherneva, and Stephanie Kelton, "Public Service Employment: A Path to Full Employment," The Levy Institute, April 2018; Josh Bivens, "How Do our job creation recommendations stack up against a job guarantee?", Economic Policy Institute, Working Economics Blog, April 2018; Dean Baker, "Dems' Job Guarantee Isn't Nearly as Easy as It Sounds," The Daily Beast, April 2018; Draft Text For Proposed Addendum To House Rules for 116 Congress on the United States, available at act.350.org; Robert Pollin,