Dockworkers Stand up to Racism, Repression, and Corporate Globalization—and Win!
This article is from the January/February 2002 issue of Dollars and Sense: The Magazine of Economic Justice available at http://www.dollarsandsense.org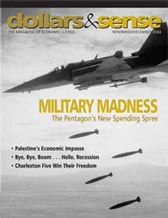 This article is from the January/February 2002 issue of Dollars & Sense magazine.
For nearly two years, the most crucial fight in the U.S. labor movement has been the struggle to defend the "Charleston Five"—members of the International Longshoremen's Association (ILA) who faced felony charges after police attacked their picket line in January 2000. In November 2001, the Five were finally set free.
At a time when crackdowns on political dissent are sweeping the country, this was a triumph for freedom of speech and freedom of assembly. The victory came because of an international defense campaign, a massive outpouring of solidarity from labor and civil rights activists, and—perhaps most important—the threat of job actions by dockworkers around the world.
"I think the struggle in Charleston has brought to the table a multitude of issues—racism, having a voice at work, and civil rights in general," Leonard Riley, a member of ILA Local 1422's executive board, told reporters last summer. "These issues are very compelling when people all over the world look at them and see that they're the same ones that they face." (Local 1422 represents four of the five workers charged.)
The saga began in October 1999, when the Danish shipping firm Nordana Lines ended its 23-year relationship with the ILA and began using non-union labor on the Charleston, South Carolina, docks. According to Local 1422 President Kenneth Riley (Leonard's brother), union members responded with peaceful picketing, which briefly delayed work on two Nordana ships.
On January 20, 2000, as one of Nordana's ships was docking, 600 riot-clad local and state police officers were on hand. When about 130 workers began marching toward the dock to exercise their right to picket, police initiated a clash by pushing the picketers back and shouting racist slurs, Kenneth Riley says. When that happened, he and other officers of Local 1422 "created a buffer between the police and the pickets," according to the Campaign for Workers' Rights in South Carolina. At that point, the Campaign reported, one police officer "ran out of formation and clubbed Kenneth Riley in the head. A fight ensued." The police attacked the workers with rubber bullets, tear gas, smoke grenades, and nightsticks. About a dozen workers were arrested and charged with trespassing.
The victory came"because of an international defense campaign,"a massive outpouring of solidarity from labor and "civil rights activists, and—perhaps most important—"the threat of job actions"by dockworkers around "the world.
The crackdown was directed by state Attorney General Charlie Condon, an ambitious Republican who wants to be the next governor. Condon ordered the massive police presence under the auspices of South Carolina's anti-union "right to work" law, after the State Ports Authority requested protection for a non-union operation on the docks. After a local judge dismissed the trespassing charges, Condon got a grand jury to indict five workers on federal charges of "rioting" and "conspiracy to riot." For nearly 20 months, the Charleston Five—Kenneth Jefferson, Elijah Ford, Jr., Peter Washington, Jr., Ricky Simmons, and Jason Edgerton—remained under house arrest. They were forbidden to leave their homes between 7 p.m. and 7 a.m. except to go to work or attend union meetings.
Another 27 workers faced a $1.5 million lawsuit filed by WSI, the company that ran the scab operation for Nordana. WSI sued to recover "lost profits" that it claimed the ILA picketers had caused.
The assault was aimed not only at labor rights but at civil rights too. ILA members in Charleston are overwhelmingly black, and Local 1422 played a key role in a 40,000-strong march on the statehouse in Charleston—held just three days before the police riot—to demand that the Confederate flag be taken down. Condon's vengeful actions suggest that he was hoping to ride a racist backlash into the governor's mansion.
At the same time, politicians were acting on behalf of giant multinational corporations—including Honda, Michelin, General Electric, and DuPont—that have poured investment into South Carolina in recent years. During the 1990s, the number of factories in the state has doubled. Companies have been attracted by wages that are 20% below the national average, and by low unionization rates. (South Carolina has the second-lowest percentage of unionized workers in the country, after North Carolina.)
In a low-wage state whose population is nearly 30% African-American, racist and anti-labor public officials were threatened by the fighting example of a virtually all-black union of well-paid workers. They figured that, if they could break a strong union like Local 1422, they could send a powerful message: that unions everywhere would be destroyed if they stepped out of line.
In the wake of the attack, organizers launched a worldwide effort to win justice for the Charleston Five. Locals and individual members of the International Longshore and Warehouse Union (ILWU), which represents West Coast dockworkers, raised hundreds of thousands of dollars for the defense campaign, and pledged to shut down the docks from San Diego to Seattle if the case went to trial. Other unions have raised money, organized defense committees, circulated petitions demanding justice, and helped to coordinate a speaking tour of ILA members to raise awareness of the case.
The struggle also had the support of the International Transport Workers Federation, which links dockworkers' unions around the world. Just days after the police riot, dockworkers in Spain and Australia refused to work Nordana's ships unless the company signed a union contract with Local 1422. That international solidarity helped pressure Nordana to sign.
In October 2001, Charlie Condon—faced with accusations of gross prosecutorial misconduct by defense attorneys—was forced to remove himself from the case. Soon after, the Five were freed from house arrest. Their trial was set to begin on November 14, and their supporters were planning an International Day of Action for that date. By early November, with the Day of Action looming, the prosecution agreed to drop all felony charges when the Five pleaded "no contest" (which is not an admission of guilt) to minor misdemeanor charges, and paid a token fine of $100 each.
The struggle for justice in Charleston is not over. The WSI lawsuit is still pending, although the case has been seriously weakened by the resolution of felony charges. In addition, the police who violently attacked unionists for exercising their basic right to picket have faced no repercussions or criminal charges. Finally, there is no compensation for the five men who lost 20 months of liberty as punishment for a crime they did not commit.
Still, in today's climate of racism and repression, the Charleston Five victory is nothing short of remarkable. If it inspires other workers to organize—especially in the South—that will be cause for celebration too. Most important, it shows that joining together to stand up for our beliefs is the best way to defend our rights to speak, assemble, and express dissent. Today, these rights are seriously threatened. The only way to keep them is to use them.